How Do I Get Michigan bail bonds services best for you
Having someone you know being arrested can take away a peaceful night's sleep. The only thing that may revolve in your head is how to get the person the freedom they deserve. Isn't it? 
Well, in that case, the offender may be required to pay a sum of money to avoid going to jail. And this could be possible with the help of the bondsman and a bail bond which is used as secure collateral. 
However, what could be daunting is finding the right Michigan bail bonds services that can assist you entirely. So let's find out some relevant information about bail bonds and the ways you can get one 
What is a Bail Bond?
A bail bond can be understood as a form of agreement that helps in defending a criminal and assists him in getting freedom. It is usually co-signed with a bondsman where the defendant agrees to pay a particular amount. 
This amount can be considered as a fee that assures the making of the payment. Also, these bonds have certain rules, regulations and restrictions that the defendant has to follow. These rules and regulations are limited until the particular date of the trial arrives. 
It would not be wrong to say that a bail bond is no less than a surety bond. However, all you need to do is rely on the best Michigan bail bonds services as such legal work can be complex for any inexperienced individual to handle.
Where to Find Bail Bond Services in Michigan? 
When being stuck in a situation like this, you may feel naturally helpless. Also, it may feel overwhelming to pick the best Michigan bail bonds services to resolve the issue. However, having a plethora of options available, you do not need to waste any more time as you can count on AAA Bail Bond Michigan. 
Being a leading service provider for bail bonds, they assure a 95% of success rate. It does not matter when, where or how you got into a problem – these professionals are always ready to assist you without a second thought. 
With a team of experts around, they always come up with the right solution regardless of the type of jail you are stuck in. Additionally, they offer services at highly affordable rates and also assist individuals with flexible financing options.
We Are Here For You 24/7
AAA Bail Bond Agency of Michigan, Inc. is licensed for bail bonds in all U.S. states where bail bonds are allowed. Our team is ready to help you, 24 hours a day, 7 days a week and 365 days a year, even on holidays! "We Service All Southeast Michigan".
Domestic violence bail bonds

Additional bail bonds services
You can count on us. We understand how stressful it can be, that's why we're on-call 24/7. Our agents are ready to pull out all the stops to get your friend or loved one out of jail—fast. Our experienced bail bonds agents can help you every step of the way. Not sure where to start? We'll work with you to make the bail process hassle- and worry-free.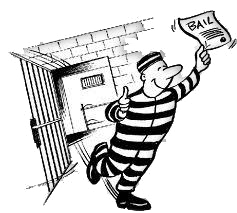 Meet our Bail Bonds Agents
Bail bonds can help to alleviate some of the stress associated with this process. We don't mess around when it comes to getting your loved one home safe from jail. That is why we are dedicated to keeping our office open 24 hours a day, 7 days a week, and 365 days out of the year. In fact, our office hasn't closed in 30 years! We're open on weekends and holidays to better serve you in your time of need. Payment Plans Available.


The Bail Bonds Process:
A person gets arrested and booked for a crime and is considered a defendant.
The defendant is held in jail while waiting for an initial court appearance, or "arraignment." This is a brief hearing where the judge sets a bond amount that must be paid before the person is released from jail.
Once the judge sets the bond, either the defendant, a friend, or a family member can pay the full amount of the bond.
If no one has enough money to pay the full bail amount they can call a bail bondsman. This way, they only need to pay a small percentage of the bond to get their loved one out of jail.
After the bond is paid, the defendant is released from jail.
The defendant must appear at all court dates for the bond to remain active. Failure to appear may result in loss of money, collateral and, most importantly, the defendant's freedom.
What is a bail bondsman?
What does a bail bondsman do exactly? A bail bondsman is licensed by state governments to provide bail bonds for defendants who are accused of one of a wide variety of crimes ranging from driving citations up to capital murder. In return for a guarantee that the offender will appear in court, the surety bail bondsman puts up the money for the entire bail amount.  In Michigan, surety bail bondsmen are allowed to ask for a percentage of the bail amount as the fee for issuing the bond.  This percentage can range from 10 to 20 percent depending on state laws.
Like other financial professionals who provide loans or bonds, Michigan bail bondsmen jobs involve ascertaining whether a potential client should be issued a bond.  The most common way to earn a bail bond is to provide some sort of security like real estate or valuable property, or to have a co-signer who will guarantee the defendant will appear for their court date.
24/7 Bail Bonds Services In These Cities:
Armada, Center Line, Clinton Township, Eastpointe, Fraser, Harrison Township, Mount Clemens, New Baltimore, New Haven, Ray, Richmond, Romeo, Roseville, Saint Clair, Saint Clair Shores, Sterling Heights, Utica, Warren, Washington, Auburn Hills, Berkley, Beverly Hills, Birmingham, Bloomfield Hills, Bloomfield Township, Clarkston, Clawson, Commerce Township, Drayton Plains, Farmington, Farmington Hills, Ferndale, Franklin, Hazel Park, Highland, Holly, Huntington Woods, Harbor, Lake Orion, Lakeville, Leonard, Madison Heights, Milford, New Hudson, Northville, Novi, Oak Park, Oakland, Ortonville, Oxford, Pleasant Ridge, Pontiac, Rochester, Rochester Hills, Royal Oak, South Lyon, Southfield, Troy, Union Lake, Walled Lake, Waterford, West Bloomfield, White Lake, Wixom, Allen Park,  Belleville, Canton, Dearborn, Delray, Detroit, Ecorse, Flat Rock, French Landing, Garden City, Gilbraltar, Greenfield Village, Grosse Ile, Grosse Pionte, Grosse Pointe Farms, Grosse Pointe Shores, Grosse Pointe Woods, Hamtramck, Harper Woods, Highland Park, Inkster, Lincoln Park, Livonia, Melvindale, Northville, Oak Park, Plymouth, Redford, River Rouge, Riverview, Rockwood, Romulus, Southgate, Taylor, Trenton, Wayne, Westland, Woodhaven, Wyandotte